The workshop is almost over! I can't believe it's gone so fast, but I can't believe the amount of knowledge I've crammed in over just a month.
The last few days have been awesomely fun! With Halloween tomorrow the workshoppers and the Imaginism Studios crew all sat around the dinner table yesterday and carved pumpkins! This is my first ever pumpkin carving, because Australians haven't fully embraced Halloween. Once I got over the whole gagging thing while ripping out its guts I had a great time. HAHA! Lots of laughs were had while carving pumpkins.We've set them up out the front of the Imaginism House, so I will post some more photos when they're all aglow with life. :)
(My costume hasn't turned up yet, so I have my fingers crossed it will show up tomorrow. I'll be sad if it doesn't :( )
The workshoppers took a trip to Niagra Falls today. It was amazing! We had such a great time exploring the town of Niagra. Below is a photo of Augusto and I as part of an interesting interactive art piece. ;)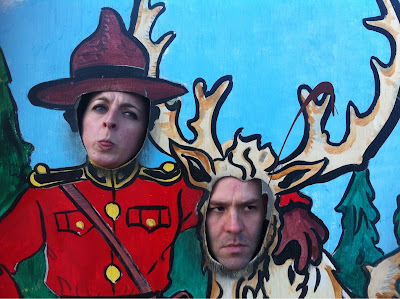 Only a few days of the workshop left, but much, much more painting to be done before I start packing my suitcase!