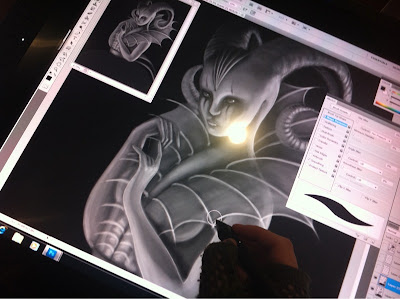 Well, I hate to say it, but the Imaginism In-House Workshop is at an end; 30 days of great education, inspiring stories, great advice, awesome meetings and huge laughing fits.
So what have I learned? There is so much, but I will do my best to list as many things as possible:
Much better drawing structure
Lighting and why it does what it does
Boxes are artistic GOLD!
Techniques with colour
Subtleties and how they absolutely make my work
T-burgers are the best things ever!
Poses and bringing out a subject's inner character
New techniques with acrylic paints
The crew from Imaginism Studios are actual humans and not some freaky drawing machines (and they're actually quite hilarious)
How to make myself an indispensable artist and my work more 'special'
Alvin Lee is awesome
A better way to draw hands!
How to draw people on the subway without them knowing you're drawing them
Using texture and brushes to take my work to the next level
Living with so many boys isn't so bad
Not to leave my sketchbook open while Augusto is around
Belief in myself and having the right attitude
The actual Imaginism Studios is not what I expected it to look like
Attracting the big clients and how to keep them coming back
Vanilla tea is yummy!
Ok, so I can't list absolutely everything that I've learned over the past 30 days, but let me just say- it's a lot! I really didn't think that much would fit in my head, but my work has transformed dramatically. It's only up from here!
On departing the Imaginism House I'd like to say a huge THANK YOU to the entire Imaginism crew for making this workshop the best thing I've ever experienced. In particular, Thierry and Bobby for passing on their precious knowledge openly in their lessons. Thank you to Isa for being my 'girly relief' from living with so many boys :). And thank you to the other workshoppers for being such a cool group. Augusto - thanks for TeePee! HAHA!
So, tomorrow I'll be hopping on another few planes, and 20 hours later I should be back in Australia. I'll have a new career outlook, new direction, stronger skill, and fresh inspiration, and I'll be heading straight for the studio!
Watch out for a new portfolio in the very near future. :)